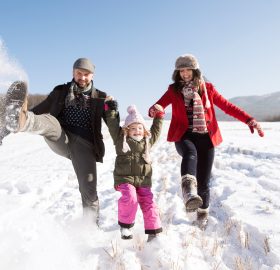 Your first Canadian winter can be a shock, with the fluctuating temperatures, cold winds, and falling snow. Canada gets cold and dry in the winter months; not -5°C cold, but -30°C cold. So, how do you prepare for that and ensure you make the most of the season?
Go in prepared with these five tips for thriving in the Canadian winters.
Warm Outerwear
Not all cold-weather gear is created equal. Whether you will be trekking through the backcountry, or taking on snow-covered city streets, winter can be brutal. That is why your winter coat, whatever the style, whatever the purpose, has to keep you warm. Look for a jacket that is water-resistant at a minimum, ideally waterproof, and rated for temperatures as low as -20°C. Longer cuts help to keep your backside warm when you are moving about and can keep the crisp winds from making their way in.
You will also want to find yourself a pair of waterproof, fleece-lined winter gloves, a fleece-lined toque and a thick scarf to help keep the cold off of your skin.
Proper Footwear
Although snow can be beautiful to look at, it can also be wet, slippery and icy. It is very common for people to slip on ice while walking, especially without appropriate footwear, so make sure you invest in a good pair of boots. You should look for insulated, waterproof boots with higher tops and a sole that has enough tread to prevent slips and falls.
Stay Hydrated
Drinking plenty of water not only helps you stay hydrated, it also helps regulate body temperature and is essential to the function of cells, tissues and organs. Drinking warm liquids such as tea, cider, hot chocolate or coffee will help to keep you warm on chilly days. Drinking water and teas can also give your immune system a boost to keep those unwanted illnesses at bay.
Vitamin D Supplementation
In Canada, limited sun exposure means your body can't produce vitamin D from November through April. For newcomers transitioning from a warmer, sunny climate, this is a major transition for your body to handle. Vitamin D regulates or influences over 200 genes in your body, playing an important role in overall health. Keep your body happy and the "bugs" away by supplementing with Vitamin D3 this winter season.
Moisturize
The cold winds of the Canadian winter sap your skin of its natural moisture which can cause your skin to dry and crack, or your lips to become chapped. In some cases, it can be painful but is easily avoidable with lip chap and skin creams.
Winter Tires
If you plan to drive, it's very important to be aware of the weather conditions and have your car prepared for them. In the thick of winter, Canadian roads can be icy and flurries can lead to poor visibility. Winter tires can help to give you better traction on the roads during this weather while slowing down and being aware of your surroundings can help you reach your destination safely.
These are a few tips to get you started off on the right foot, but you can continue to make this an amazing winter by further educating yourself on the things to be aware of with the cold weather and getting outside to enjoy the beauty and fun of the colder season.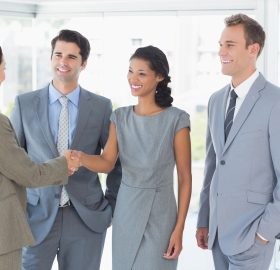 You receive an email that you have a job interview, but you don't know what to wear? These tips will help you go in looking professional and polished.
Stay away from Scents
Many companies have scents free policies; this is because some people have allergies or reactions to certain odours.
Dress in comfortable, professional clothing
There is a common saying "dress for the job that you want, not the job you have". This means if you are interviewing for an office position, you should dress in business wear, while if you are applying for a labour position, then clean casual clothing may be appropriate. It is important that you look presentable and comfortable because this way you can present yourself properly and are likely to be more successful.
Get ready the night before your interview
Try on everything that you want to wear one day before your interview. This will keep you from scrambling the day of the interview to find items that fit nicely and will ensure you have the perfect outfit ready to go.
Polish your shoes.
Get a haircut.
Once you have picked out your outfit, press your clothes for a crisp, clean appearance.
Hopefully, these tips help you feel confident and prepared for your interview. Good Luck!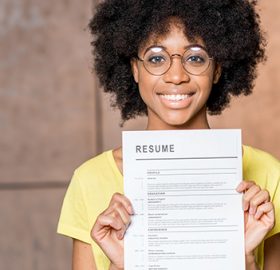 You might be wondering why, after sending so many resumes, you have not received a ton of responses yet. As a new immigrant to Canada there are a number of potential differences between the way you are used to writing a resume and the Canadian expectations. Learn these Canadian resume tips to strengthen your job search and improve upon your most important marketing tool in the interview process.
Keep it short and concise. In Canada, most people have a resume that is a maximum of two pages long. Keep it to one page if are a recent graduate or do not have a lot of experience.
Include your contact information for the potential employer to reach you. Provide information such as a phone number, email address and mailing address. Don't attach a photo or any personal information including gender, marital status, or religion.
Change your resume for each job you apply for. It is important to only include skills and experience relevant to the position such as the proper name of previous companies, where the business was located, and the title of the job that you had and a brief description of the position. Also, include any volunteer work you have done. Do not include personal interest and hobbies unless they are relevant to the position
Ensure your resume format style is consistent. You should avoid long paragraphs and small fonts, 12 point font is standard. Use an easily readable font and make sure that only one font is used throughout. Ensure your resume format style is consistent.
Have an up-to-date online resume. LinkedIn is a professional online platform that is frequently used in Canada for networking and the job search process. Many employers' look-up job applicants on LinkedIn as well as other social media sites like Facebook and Twitter so make sure they are up-to-date and match the professional image you would like to portray.
Finally, it is always a good idea to have your resume proofread by another person who is fluent in the language for typos, proper grammar, and completeness.
Once you apply these tips, you can start to focus on the interview preparation process. Happy job hunting!