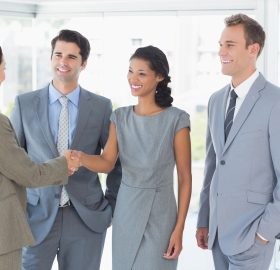 You receive an email that you have a job interview, but you don't know what to wear? These tips will help you go in looking professional and polished.
Stay away from Scents
Many companies have scents free policies; this is because some people have allergies or reactions to certain odours.
Dress in comfortable, professional clothing
There is a common saying "dress for the job that you want, not the job you have". This means if you are interviewing for an office position, you should dress in business wear, while if you are applying for a labour position, then clean casual clothing may be appropriate. It is important that you look presentable and comfortable because this way you can present yourself properly and are likely to be more successful.
Get ready the night before your interview
Try on everything that you want to wear one day before your interview. This will keep you from scrambling the day of the interview to find items that fit nicely and will ensure you have the perfect outfit ready to go.
Polish your shoes.
Get a haircut.
Once you have picked out your outfit, press your clothes for a crisp, clean appearance.
Hopefully, these tips help you feel confident and prepared for your interview. Good Luck!