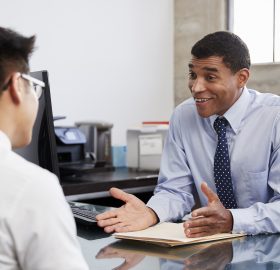 We have all experienced the nervousness that comes when you are going into a job interview. To help with your nerves, you probably would like to be more prepared than the other candidates. Here are seven tips to help you prepare for your next interview:
Learn all about the company you are applying for. This will help you to stand out in your responses to the recruiter's questions compared to less-prepared candidates. Research the company website, learn the company history, the position you are applying for and learn about your interviewer. It is also a good idea to go into your interview with some thoughtful questions of your own that you have formed from researching the company.
Know your strengths and weaknesses. It's important to emphasize what you're good at, and minimize, but be truthful about, what you're not. Double-check your skills and qualifications and compare it to the job requirement. This will help you identify which strengths you would like to highlight in your interview.
Plan what to wear. A study found that 64% of bosses said clothes could be the deciding factor between two similar candidates. Dress appropriately to your interview and give yourself a competitive edge.
Arrive Prepared. You should bring any items you may need during your interview with you in a professional bag, briefcase or folder. Some items you should have include copies of your resume, a pen or two, a notepad, your prepared questions, a list of references, contact information, and breath mints or gum (although you should spit this out before actually entering your interview.
Pay attention to your non-verbal communication. Your body language says a lot, even when you're not talking. It is important to be aware of this while you are in your interview and avoid gestures that give the wrong message. Start the interview with a firm handshake, make eye contact throughout the interview, sit up straight, and don't sit with crossed across your chest as this can make you seem defensive and guarded.
Follow-up after your interview. Send the interviewer a personalized thank you letter or email a couple of hours after your interview. The follow-up should express your interest in the position and include specific notes from the interview. This will keep you top of mind for the interviewer as well as show you appreciate the time and effort they put into considering you as a candidate.
By integrating these simple tips into your interview preparation you can ensure you stand out against the competition. Good luck with your interview!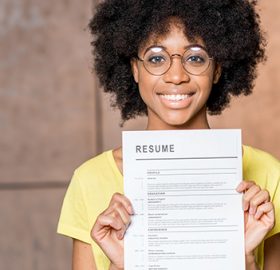 You might be wondering why, after sending so many resumes, you have not received a ton of responses yet. As a new immigrant to Canada there are a number of potential differences between the way you are used to writing a resume and the Canadian expectations. Learn these Canadian resume tips to strengthen your job search and improve upon your most important marketing tool in the interview process.
Keep it short and concise. In Canada, most people have a resume that is a maximum of two pages long. Keep it to one page if are a recent graduate or do not have a lot of experience.
Include your contact information for the potential employer to reach you. Provide information such as a phone number, email address and mailing address. Don't attach a photo or any personal information including gender, marital status, or religion.
Change your resume for each job you apply for. It is important to only include skills and experience relevant to the position such as the proper name of previous companies, where the business was located, and the title of the job that you had and a brief description of the position. Also, include any volunteer work you have done. Do not include personal interest and hobbies unless they are relevant to the position
Ensure your resume format style is consistent. You should avoid long paragraphs and small fonts, 12 point font is standard. Use an easily readable font and make sure that only one font is used throughout. Ensure your resume format style is consistent.
Have an up-to-date online resume. LinkedIn is a professional online platform that is frequently used in Canada for networking and the job search process. Many employers' look-up job applicants on LinkedIn as well as other social media sites like Facebook and Twitter so make sure they are up-to-date and match the professional image you would like to portray.
Finally, it is always a good idea to have your resume proofread by another person who is fluent in the language for typos, proper grammar, and completeness.
Once you apply these tips, you can start to focus on the interview preparation process. Happy job hunting!