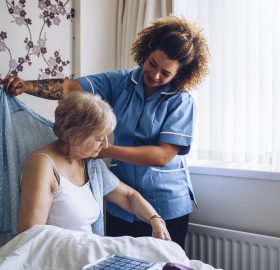 The Interim Pathway for Caregivers is a dedicated pathway to permanent residence for qualifying in-home caregivers in effect March 4, 2019 until June 4, 2019. If you have work experience in Canada as a home child care provider or home support worker, you may be able to apply for permanent residence.
To be eligible to apply, you must have the required:
status in Canada
work experience
language levels (CLB 5 in English or NLCL 5 in French)
education (equal to a Canadian secondary school, also known as high school, diploma)
You must also plan to live outside the province of Quebec.
At the Time You Apply
To meet the status requirements when you apply, you must either have a valid work permit; have applied to extend your work permit and be waiting on a decision; or have applied to restore your status as a worker.
For your work experience in Canada to be eligible, you need to have worked as a home child care provider, a home support worker, or a combination of the two. You will also need to have gained this experience while working in the Temporary Foreign Worker Program.
You will also need to have at least 12 months of full-time work experience (at least 30 hours of paid work per week) since November 30, 2014. Breaks in employment (for example, periods where you weren't working, on sick leave or parental leave) are allowed, however, any work experience you had while you were a full-time student doesn't count.
It is important to note you'll have to include documents to show proof of your work experience in your application.
If you're interested in applying and believe you meet the above criteria, contact us. We would love to assist you with the application process.